---
Marina Solarek, Artistic Director and Conductor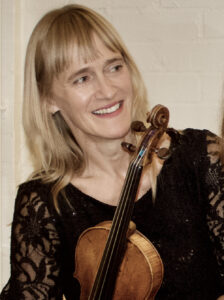 Marina's first professional work was as an extra ballet dancer in the Bremerhaven State Theatre.
After her A levels in Music, Biology, Pedagogy and Sport, she studied Music at the Musik Hochschule Heidelberg/Mannheim and later at the Hamburg Hochschule for Musik und Theatre where she was trained in Violin, Piano, Voice, Choir and Orchestral conducting.
In 1986 she moved to London to study violin with Professor Yfrah Neaman and gained her performance and teaching diplomas at the Guildhall school of Music and Drama in 1988.
Her first job was in the BBC Radio Orchestra and since becoming freelance she has played with most major London Orchestras and Opera Houses, has played in and led numerous West end shows and freelance orchestras and worked for Film and television.  As a chamber musician she has recorded for BBC Radio 3 and Classic FM. Her Piano Trio, which specialises in the performance of neglected 19th and 20th century women composers has performed at the Purcell Room, St Johns Smith Square, St David's Hall Cardiff and has toured in Great Britain and Europe.
Throughout her playing career Marina has taught at many different institutions. She has taught chamber music at the Royal College Junior department, violin at Royal Holloway University and has given masterclasses at Belfast University.  She also enjoys leading various amateur orchestras in London and conducting their string rehearsals. Recently she started conducting her own string orchestra in St Albans. 
In her spare time Marina goes to ballet classes with Romayne Grigorova at the Royal Opera House and the Roger Tully collective.
---

Sheena Mckenzie, Cello and Chamber Ensembles
Sheena began her 'cello studies in Hong Kong at the age of 11. Three years later, she moved back to her father's native Scotland where she attended the Douglas Academy music school. At the age of 16, Sheena was invited to perform Prokofiev's Concertino with the junior orchestra of the Royal Scottish Academy of Music and Drama where she went on to study with William Conway. She was then awarded a post-graduate scholarship to study at the Royal College of Music in London with Amaryllis Fleming.
Sheena has won prizes for 'cello solo and chamber music playing, as well as piano solo and piano accompaniment prizes. An award from the Countess of Munster Trust enabled her to acquire her beautiful Barak Norman 'cello, made in 1716.
Sheena has played in master classes with Pierre Fournier (at the age of 13), Paul Tortelier, William Pleeth and Alexander Baillie. She has enjoyed a playing career both as a chamber musician and as a freelance orchestral player but she now dedicates her time mainly to teaching.
---
 
Fiona Nisbett, Cello , Double Bass, Orchestra conductor and Chamber Ensembles
Fiona studied cello with Alexander Baillie and William Pleeth. She made her concerto debut at the age of seventeen and since then has performed most of the major concertos with orchestra. At the age of eighteen Fiona was one of five soloists selected to perform in the Youth Makes Music Rotary International Festival at The Royal Albert Hall.
She has given recitals throughout England, France, Holland, Germany, The Czech Republic and Italy including first performances of John McCabe's Solo Partita for cello in Italy and Keith Beal's Sonata No1 for cello and piano in Holland. Fiona has also taken part in several recordings and more recently performed in a chamber music concert with Raphael Wallfisch at Burgh House, London. Fiona has been the cellist of The Pentland Trio since its formation in 2010.
---
Iona McDonald, violin and chamber ensembles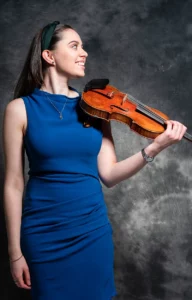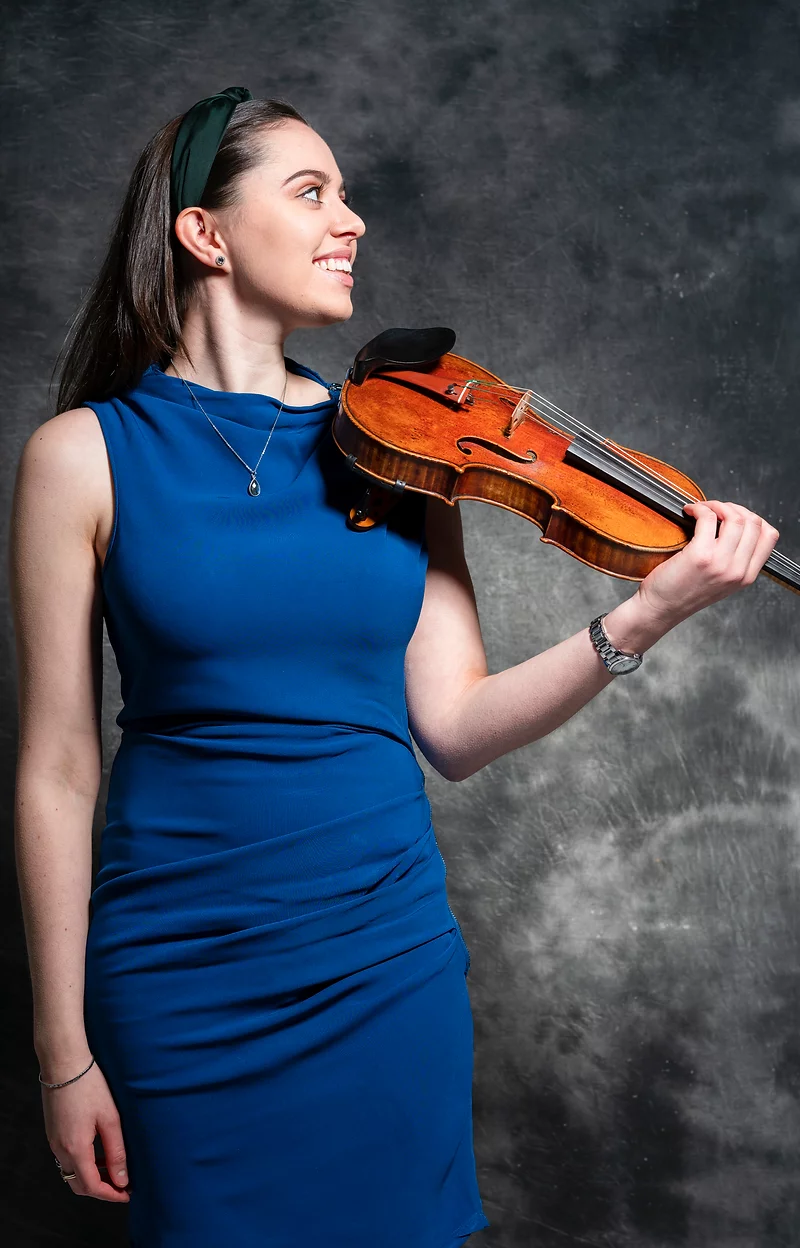 Iona McDonald is a violinist currently in the 2nd year of her 2 year Master of Arts degree studying with Maureen Smith and Michael Foyle at the Royal Academy of Music in London. Born in Dumfries, and with her early education in Moffat, Iona is a well-known young musician around Dumfries and Galloway. She has been a member of the Gustav Mahler Jugendorchester since 2019. Highlights of her time working with the GMJO include performing on the opening night of the Salzburg Festspiele in July 2021 and a collaboration with the GMJO and the Dresden Staatskapelle in March 2020.
Iona is a member of the Asaka Quartet, formed at the Royal Academy of Music in October 2021. After just 6 months of working together, they are delighted to have been appointed Chamber Music Fellows at the Royal Academy for 2022/23. Currently they are mentored by Martin Outram and also receive coaching from the Doric Quartet and the London Haydn Quartet. Recently, they received an invitation to the prestigious Music Coll 2022 by Jonathan Tunnell, Artistic Director of the Tunnell Trust, where they will work, study and perform on the beautiful Isle of Coll in June later this year. 
Iona is also a keen orchestral player and the Royal Academy has presented many wonderful performance opportunities, including performing at the Wigmore Hall with the String and Wind Soloists ensemble in May 2019 and tour of Japan in Summer 2018. She regularly performs with the RAM Symphony Orchestra which she recently lead for their Midsummer NightsDream project in January 2022. She is delighted to have been invited to lead the RAM Symphony Orchestra for their performance of Mahler 3 at the Royal Festival Hall conducted by Semyon Bychkov for the Academy's 200th Anniversary Concert in June 2022. She was also leader of the Opera Orchestra for the performances of Gianni Schicchi & L'heureEspagnol in November 2021 and lead the Manson Ensemble in November 2020. Iona has been a member of the National Youth Orchestra of Scotland ensembles since the age of 8, touring China in 2015, performing at the Proms in 2016 and leading the Symphony Orchestra in the 2017 season. She is delighted to be joining them again in July 2022 as a soloist with the NYOS Junior orchestra. 
Iona has performed as soloist with Buxton Music Society, Musicale, Halifax Symphony Orchestra, Glasgow Chamber Orchestra and High Peak Orchestra whom she will be joining again in July 2022 to perform Chausson Poeme in the Buxton Festival Fringe.
---
Catarina Silva, violin/viola and ensembles
---
Dinah Beamish, cello
Dinah Beamish took a BA Music studying at Darlington College of Arts studying with Michael Evans. Upon graduating Dinah auditioned for the National Centre for Orchestral Studies at Goldsmiths in London and played with the orchestra under various conductors. These included Vernon Handley, George Hurst and Adrian Leaper. It was a great year for learning orchestral repertoire and how different conductors inspire and Dinah learnt many different interpretations of Beethoven symphonies which she is glad to have got to know very well!
After this Dinah undertook further study with Lowri Blake, who helped Dinah enormously, not only as a cellist, but also in introducing the freelance world in general from sessions to National Theatre work and to meeting chamber musicians.
Dinah's CV includes many different areas of music from playing on Top of the Pops in the 90's, playing on the theme tune to 'Red Dwarf' and the Jules Holland annual New Years show in a string quartet for 18 years.
"As a teacher I aim to make every lesson enjoyable. I like to emphasise that a comfortable sitting position for the student is paramount, to enable the cello to lean against the student so that firstly the student is comfortable with the cello position and secondly so that the cello is ready to be bowed or played pizzicato!
The bow is possibly the most difficult  aspect for young players to learn, but I hope to be able to encourage perseverance with something that's tricky to begin with, but becomes comfortable, especially when hearing the lovely sound of the bow passing over the cello strings"
---
Peng Nian, Violin/Viola and orchestra and ensemble assistance
Peng was born in Han Dan and brought up in a medium size heavy industry city called Fu Shun in north east China, which has a population of 2.2 million (small for China!). 
She started learning the violin at the age of four and a half in Fu Shun. The orchestra she played in as a school student won a number of first prizes and she was selected to appear when the orchestra played on TV over there.  She was offered a place as an orchestra member in the only music centre in Fu Shun and was one of two who were accepted without audition.
In 2000, she came to UK to study and, luckily, in 2007 she met Tatjana Goldberg as her violin teacher at Middlesex University. She loved Tatjana's teaching style from the first lesson and later gave up an unconditional offer to study music at Manhattan college, New York, in 2008, because she felt that Tatjana was the right teacher who would direct her well for the future. Thanks to Tatjana, Peng received a music prize at Middlesex University in 2009. She then continued to study for a MA in Music Performance jointly at City University and Guildhall school of music and drama. During her studies she played one of Vivaldi's violin concertos with the UK's longest running chamber ensemble, Allegri String Quartet, and also had masterclass with the leader of the quartet, Rafael, and masterclasses with Sophie Langdon. 
Peng started as assistant to both Nigel and Tatjana since studying at Middlesex University and also developed her own teaching practise since that time. In 2008 she started working as a helper at YMC and she has very much enjoyed working as part of the teaching staff with Nigel, Tatjana, Fiona and Greg at YMC.  Before working at YMC, she taught Mandarin at Hackney Community for a number of years.
Having taught at primary schools in north London for several years, she is now enjoying a freelance career as chamber musician, orchestral player and choral singer. She has played at Burgh House, St Luke's, on the South Bank and worked with Kings College. Peng is currently a member of the orchestra at Hertfordshire University. She also sang at St George's, Hanover Square, and has organised children's concerts and a musical in China, but she now dedicates her time mainly to teaching youngsters.
---
Lea Saric, Junior Musicianship (early years)
Growing up in a family of musicians, Lea had the opportunity to develop her passion for music early on. As a child she successfully auditioned for one of the most rigorous European choirs which allowed her to study classical music and perform across the world in numerous concerts and opera productions such as La Bohème and Pagliacci.
She continued to hone her singing skills on many global stages including The Milan Cathedral, Lincoln Center NY as well as lead her own band, touring in front of large audiences for several years.
After attending a Musical Theatre course in London's West End, she decided to study Jazz at Middlesex University where she recently graduated with First Class Honours.
Lea's musical journey included training with many wonderful mentors and teachers such as Mark Oldfield, Sheila Jordan and Renee Manning who all inspired her to bring together the best of their knowledge and develop her own teaching methodology.
After working with children for many years, she is especially passionate about teaching the little ones, so to stay ahead of the curve she regularly attends training events, studying methodologies such as the Kodály Method and Estill Voice Training to pass on her knowledge.
---
Tristan Weymes, Choir Director and Voice/aural Teacher
Tristan is a conductor, singer, and accompanist based in South London, currently studying towards an MA in Choral Conducting at the Royal Academy of Music and studies under Patrick Russill. At Trinity College, Oxford, he was Conductor of the Trinity College Chapel Choir, Oxford University Chorus, Turl Street Arts Festival Orchestra, and during this time also took up a Young Conducting Scholarship with Sing for Pleasure in 2019. He is currently Director of Music at St Mary the Virgin, Merton Park, an Assistant Leader at the London Youth Choirs, and is delighted to be taking up the post of Voice and Aural Teacher, and Choir Director, with Youth Music Centre from September 2023. Alongside this, he is Deputy Artistic Director of Elysium, an organisation which aims to provide musical opportunities to young people who don't have access to them and has held singing workshops across the UK and abroad. His professional singing work has involved solo performances at venues such as St Martin in the Fields and St Paul's Knightsbridge, and as a backing singer onstage with London Youth Choirs.
He has worked with a variety of choirs, including a position as Associate Conductor of the North Cotswolds Chamber Choir last year, and runs the Elysium Consort and Chorus, towards termly concerts of both chamber and large-scale choral repertoire. He has led several youth choirs, including at Bloxham School, and recently became an Assistant Leader with the London Youth Cambiata Boys' Choir. He was recently Conducting Fellow of Hertford Choral Society. Tristan is determined to provide opportunities to musicians of all backgrounds. He recently set up a Children's Choir at St Luke's, Woodside, where he was Director of Music until December 2022, and has led singing workshops in the UK and abroad for children and adults alike.
---

Graham Bennett BMUS LRAM PGCE, Music Theory and Composition
Graham studied piano, theory and composition at the Yehudi Menuhin School, the Royal Northern College of Music, and the Royal Academy of Music in London where he was awarded the Associated Board Entrance Scholarship. During this time he won many prestigious prizes and performed extensively in the United Kingdom and abroad as a soloist and chamber musician.
In 2001 Graham studied for a PGCE at the Institute of Education, University of London to obtain Qualified Teacher Status which enabled him to broaden his teaching experiences working with students in mainstream schools across North London, and he is Head of Theory and Composition at the Youth Music Centre
Graham is also the author, composer and publisher of the 'Music Master Series', a collection of fun and easy to follow Educational Music Books specialising in composition, theory and performance.
---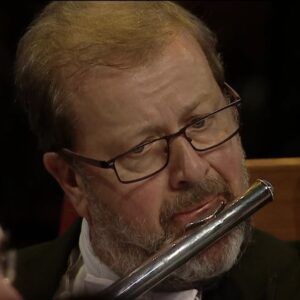 Luke Strevens, Flute and Woodwind Chamber coaching
Luke Strevens studied at the Guildhall School of Music and Drama with Edward Beckett, also privately with William Bennett and Peter Lloyd as well as participating in masterclasses with the legendary Marcel Moyse.
Luke played Principal Flute with Opera80/English Touring Opera for 36 years and has worked with all the major London Orchestras as well as playing principal flute with the London Concert Orchestra for many years . As well as working with Opera, Ballet and Chamber Orchestras throughout the UK, he has played in West End Shows and in recording studios, as well as with such artists as Shirley Bassey, Luther Vandross and The Moody Blues .
Solo and chamber music performances in UK, France, Belgium, Italy, Spain, Norway and Denmark have included Premieres of two works for Solo Flute and Orchestra by Francois Glorieux at  the Palais des Beaux Arts in Brussels. 
In 2020 he formed Duo Panavanti with the Vibraphone player Jonny Raper
---
Claudio Leisse, Music Theory
---

Elizabeth Knatt, Recorder and ensembles
 Lizzie is a recent graduate of the University of Birmingham, where she studied the recorder with Annabel Knight and Chris Orton and was awarded the Arnold Goldsborough Memorial Prize for Early Music. She is now continuing her studies at the Royal Academy of Music with Anna Stegmann. Lizzie holds an LRSM award in recorder performance from the Associated Board.
The recorder has given Lizzie the opportunity to travel across the UK, Europe and further afield – most recently to Israel, where she was a semi-finalist in the Tel Aviv Recorder Festival in February 2020. Lizzie enjoys exploring contemporary music and collaborating with composers, and has recently premiered new works for recorder for The Arc Project and the University of Birmingham Summer Festival of Music. Lizzie is passionate about music education and has previously worked as a student tutor on the Recorder Summer School, assisted with Musicate! Music Explorers Scheme events in Gloucestershire and demonstrations run by the York Music Education Group, and led recorder workshops in primary schools in Hampshire. 
---
Chloë Meade, Violin and Viola
Chloë Meade enjoys exploring a wide range of musical genres including classical, folk, tango, jazz and film music. She has participated in Masterclasses with Thomas Gould and Giovanni Guzzo, as well as tango expert Mario Stefano Pietrodarchi. In 2014 she was the soloist in a performance of the Bruch Violin Concerto No. 1 in G minor at St. John's, Smith Square. She is a member of the Scintille Quartet and has performed chamber works at venues such as the Purcell Room and St. James's Church, Piccadilly. Chloë has played in the Royal Academy of Music Symphony Orchestra with conductors such as Christopher Warren-Green, Yan Pascal Tortelier, Jac van Steen, Marin Alsop, Sir Mark Elder, John Wilson and Ed Gardner, and in 2017 played under the baton of composer James Newton-Howard in concert at the Royal Albert Hall. She also led a performance of Verdi's Requiem at the Royal Festival Hall that year. In 2019 she featured in the hit film 'Rocketman', leading the orchestra conducted by the young Elton John in a dream sequence. In 2020, she was invited to be Concertmaster for the Jesus College Cambridge Bach Festival; culminating in his magnificent B minor mass, and returned for the second festival in May 2022. In September, she was appointed Co-Principal of the Ernest Read Symphony Orchestra, and she plays regularly with ensembles such as the Echo Ensemble, Orion Orchestra, Kalpadruma Collective, Brixton Chamber Orchestra and Sinfonia Diverse Collective. Chloë has an undergraduate and masters degree from the Royal Academy of Music, where she studied with Joshua Fisher & Jonathan Stone.
As a teacher, Chloë has worked on Wendy Max's 'Frinton Summer Strings' course, coaching chamber groups and helping out with the string orchestra, and since graduating she has taken on the role of part-time peripatetic teacher at Sedgehill Academy, alongside her private pupils, and has also taught at South Hampstead Junior School, A to G Music School, and Prior Weston Primary School.
---
Karin Bjork, Violin
Karin Björk grew up in a coastal town in southeastern Sweden, but has been living in England for over 20 years. She studied violin at the Birmingham Conservatoire with Clive Lander and baroque violin at the Royal Academy of Music with Nicolette Moonen and is now enjoying a varied career, performing with St James' Baroque, The Mozartists, Feinstein Ensemble, Gabrieli Consort and Players and Amsterdam Baroque Orchestra. She enjoys chamber music and performs regularly in a string trio and quartet. Karin has worked as a violin tutor at Hill House International Junior School since 2008, she teaches violin, viola and piano privately, and she home educates her two daughters. 
---
Ellen Baumring-Gledhill, cello assistance
Ellen is a cellist from London and herself a former student of YMC.
She was the only cellist to reach the Strings Category Final of BBC Young Musician 2020 and in the same year she won Junior Guildhall's Lutine Prize, their most prestigious award, at the Milton Court Concert Hall competition final. 
She is currently a Scholar at the Royal Academy of Music, studying with Felix Schmidt and at the end of her first year she was awarded the Katie Thomas Memorial Prize and the Rhoda Butt Award for her achievement and contribution to the Academy.
She began learning the cello at the age of 5 with her uncle Dr Oliver Gledhill, continuing to study with him at Junior Guildhall as the D'Addario Strings Cello Scholar. During her time there, she was a prize winner in their Charlton House Young Artists Awards competition 2018, was chosen to represent Junior Guildhall at the London Cello Society's Cello Power Event, Young Cello Talent in Concert 2020 and at the end of her final year she was awarded the Principal's Prize.
Other awards include the 2016 national Emunah Young Musician title as well as Most Promising String Player at Hatfield and Southend Music Festivals. She was a Gold Award winner at the New Talent British International Youth Music Competition in 2018 and 2020 and Senior Solo winner at the Spring Grove Music Festival in 2019. A Music Scholar at Mill Hill School, she won the School's McClure Instrumental Competition in each of her three eligible years.
Ellen has participated in masterclasses with Maria Kliegel in Germany (2018), Miklós Perenyi in Austria (2019), Phillipe Muller in France (2019) and Gary Hoffman online in Ireland (2020). She was awarded a major Scholarship to take part in the Virtual Summer Cello Festival in 2020 and 2021 which included masterclasses with Colin Carr, Gary Hoffman, Marcy Rosen and Johannes Moser. In 2018 Ellen attended the Curtis Institute's Young Artists Summer Program in Philadelphia, USA.
A keen chamber musician, she is cellist in the Regency String Quartet together with other undergraduate students from the Royal Academy of Music. After only one month of playing together, in October 2021 the quartet were selected by competition for The Frost Trust Advanced Specialist Strings Ensemble Training (A.S.S.E.T) and are coached and mentored by the Doric Quartet.
---
Henry Hargreaves,  Cello and Administration
---
Visiting Teachers  (masters classes or lectures)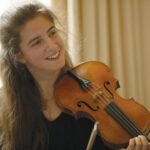 Catherine Manson
Catherine enjoys a versatile performing career as a soloist and chamber musician.
As first violinist of the classical London Haydn Quartet she has performed in venues such as Carnegie Hall, the Library of Congress, the Concertgebouw in Amsterdam, London's Wigmore Hall and the Sydney Opera House. The quartet's series of recordings of the Haydn quartets on the Hyperion label has met with high critical acclaim internationally.
She was appointed as leader of the Amsterdam Baroque Orchestra in 2006. Together with the orchestra's director, Ton Koopman she has recorded the six obbligato sonatas by Bach, Haydn's concerto for violin and organ and the complete chamber music by Buxtehude. They have given many concerts together throughout Europe.
Teaching has always been an important part of her musical life; in 2001 she co-founded and now directs MusicWorks, an organisation which presents a range of chamber music courses for young musicians.  She has given masterclasses and workshops at conservatories in London, Lyon, Barcelona, Amsterdam, Sydney, Melbourne, Singapore and at Juilliard School, Yale and Indiana Universities.
---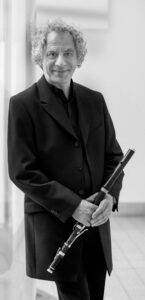 Martin Feinstein is recognised as one of this country's leading period performers.
After playing jazz piano and guitar from a young age, Martin only began playing the flute as a fifteen year old, inspired by hearing the works of Johann Sebastian Bach. Three years later he started flute and recorder studies at the Royal College of Music and there won a German Government Scholarship which enabled him to continue his training in Hamburg with the great German flautist Karlheinz Zoeller. After spells working with the Hamburg Symphony Orchestra and Ensemble Modern, he returned to London to form and direct the Feinstein Ensemble.
As a soloist and with his ensemble, his chamber and concerto recordings for Naxos, Black Box Music, Sanctuary Records, Dutton Epoch, Barn Cottage Records and BBC Television have met with critical acclaim. Fanfare (USA) said that "Feinstein's flute-playing is beyond praise – I have never heard better." Gramophone described Feinstein as "A graceful player and decisive conductor." They noted that "Feinstein has acquired a formidable command of Bach's very particular style..these are virtuoso flute concertos played with great authenticity and consummate musicianship."
Martin Feinstein's love of Bach's music continues to inspire his work.
---
Youth Music Centre Trustees
Tony Burch
Ian Byrne (Treasurer)
Julia Edwards
Dr Amanda Craig
Michael Hurwitz
Edward Longstaff
Amanda Sharpe
Stephen Warner (Chair of trustees)
---