---

Nigel Goldberg, Artistic Director and Conductor
Nigel started learning the violin with the well-known Leeds violin teacher, Eta Cohen. His studies were sponsored by the Countess of Munster Musical Trust and during that time he won first prizes at all the northern music festivals and also won the prize for the most outstanding performance at the National Festival of Music for Youth held at the Fairfield Halls, Croydon on three successive occasions.
Soon after gaining his ARCM diploma at the age of seventeen he won the Corporation of London Stringed Instruments Scholarship to study on the Advanced Solo Studies course with Professor Yfrah Neaman at the Guildhall School of Music and Drama. An award from the Martin Musical Scholarship Fund enabled him to continue his post-graduate studies with Emanuel Hurwitz. In October 1981 the Worshipful Company of Musicians promoted Nigel Goldberg's London debut and the following month he won the third competition for Northern Musicians.
Since that time, besides studying with world famous musicians Artur Balsam, Denis Matthews and Hans Keller, Nigel Goldberg has been in much demand as a leader and chamber musician playing in many festivals and directing such groups as the London Gala Soloists and Versus Ensemble in Spain. He is also involved in films and television as a musical consultant and performer, this work taking him to Europe and the United States of America. From 1989 to 1999 he led the award winning West End show, Miss Saigon and led the Johann Strauss Orchestra as well as leading orchestras for Natalie Cole and touring with Shirley Bassey and Eric Clapton. Since August 2000 he has had the great pleasure of playing duos for violin and viola with his wife, Tatjana Goldberg and last year they formed the Tilanius Ensemble with Laura O'Gorman.
During all that time however, his constant and abiding passion has been working with young children. From being assistant to his first teacher, Eta Cohen in Leeds, to his present position as Artistic Director of Youth Music Centre he has always held teaching posts at institutions such as Watford School of Music, Highgate School and the Latymer School, Edmonton. He has also been an adjudicator at the North London Festival and a judge at the International Competition of Israeli Music in London. Although it is always enjoyable working with advanced students in the last 10 years he has increasingly worked with younger children and in many ways he has found this work the most rewarding. His three books of original compositions for young violinists called Sounds of a Rainbow and Three Concertinos in the 'Olden Style' are published by Spartan Press and received high critical acclaim.
Nigel Goldberg plays on a fine Italian violin by J. B. Rogeri, 1703.
---
Dr Tatjana Goldberg, Violin and Chamber Ensembles
Tatjana started learning the violin in Pula, Croatia with the Italian violin teacher Carlo Urbani, continuing her studies with Professor Petar Vrbancic in Zadar. As a young violinist she won several competitions and was sent to Moscow to study solo performance at the Conservatoire P. I. Tchaikovsky.
Tatjana graduated from the class of Boris Belenky in 1985 and the following year started to teach in Banja Luka University, Bosnia, where in 1987 she was named Teacher of the Year. In 1992 Professor Yfrah Neaman invited Tatjana to study in his class at the Guildhall School of Music and Drama, but she discontinued her studies to try to rescue her family in Bosnia. However after Tatjana tragically lost her family she escaped to Rio de Janeiro, Brazil where she lived and worked from 1994.
Shortly after arriving in Rio Tatjana auditioned and was appointed co-leader of the Brazilian Symphony Orchestra and also formed chamber ensembles who performed all over Brazil. In Rio she became one of the small group of musicians regularly working for film and commercial work as well as playing for the 'O Globo'- Brazil's biggest TV station. In 1998 Boris Belkin invited Tatjana to play in his chamber orchestra during the summer festival in Reims, France, and in 2000 she was also invited by Pierre Amoyal to play in his festival in Switzerland. In August 2000 Tatjana married the violinist Nigel Goldberg and came to live in the UK. Tatjana made her London concerto debut in June 2001 at St. John's Smith Square playing the Bruch violin concerto. In October 2002 Nigel and Tatjana toured Bosnia and Croatia giving a series of violin and viola recitals which were very well received by public and critics alike.
During the last ten years, besides playing in BBC and other orchestras, Tatjana has found herself increasingly in demand as a teacher. She takes great pride in being able to develop children of all abilities and at the Youth Music Centre she takes a class of five-year old beginners for one year followed by individual lessons thereafter. In an incredibly short time she manages to turn them into young violinists many of whom reach Grade 8 level before their teenage years. She believes that the duty of a teacher, like that of a parent is to help a child reach their full potential and she is immensely dedicated to that task.
In September 2015 Tatjana became a member of staff at the Purcell School and also teaches at the Middlesex and City Universities. In January 2016 Tatjana was awarded a PhD from the City University for her thesis 'Maud Powell, Marie Hall & Alma Moodie: A gendered re-evaluation of three violinists'.
---
Sheena Mckenzie, Cello and Chamber Ensembles
Sheena began her 'cello studies in Hong Kong at the age of 11. Three years later, she moved back to her father's native Scotland where she attended the Douglas Academy music school. At the age of 16, Sheena was invited to perform Prokofiev's Concertino with the junior orchestra of the Royal Scottish Academy of Music and Drama where she went on to study with William Conway. She was then awarded a post-graduate scholarship to study at the Royal College of Music in London with Amaryllis Fleming.
Sheena has won prizes for 'cello solo and chamber music playing, as well as piano solo and piano accompaniment prizes. An award from the Countess of Munster Trust enabled her to acquire her beautiful Barak Norman 'cello, made in 1716.
Sheena has played in master classes with Pierre Fournier (at the age of 13), Paul Tortelier, William Pleeth and Alexander Baillie. She has enjoyed a playing career both as a chamber musician and as a freelance orchestral player but she now dedicates her time mainly to teaching.
---
 Fiona Nisbett, Cello , Double Bass, Orchestra conductor and Chamber Ensembles
Fiona studied cello with Alexander Baillie and William Pleeth. She made her concerto debut at the age of seventeen and since then has performed most of the major concertos with orchestra. At the age of eighteen Fiona was one of five soloists selected to perform in the Youth Makes Music Rotary International Festival at The Royal Albert Hall.
She has given recitals throughout England, France, Holland, Germany, The Czech Republic and Italy including first performances of John McCabe's Solo Partita for cello in Italy and Keith Beal's Sonata No1 for cello and piano in Holland. Fiona has also taken part in several recordings and more recently performed in a chamber music concert with Raphael Wallfisch at Burgh House, London. Fiona has been the cellist of The Pentland Trio since its formation in 2010.
---
Peng Nian, Viola and Chamber Ensembles
Peng was born in Han Dan and brought up in a medium size heavy industry city called Fu Shun in north east China, which has a population of 2.2 million (small for China!). 
She started learning the violin at the age of four and a half in Fu Shun. The orchestra she played in as a school student won a number of first prizes and she was selected to appear when the orchestra played on TV over there.  She was offered a place as an orchestra member in the only music centre in Fu Shun and was one of two who were accepted without audition.
In 2000, she came to UK to study and, luckily, in 2007 she met Tatjana Goldberg as her violin teacher at Middlesex University. She loved Tatjana's teaching style from the first lesson and later gave up an unconditional offer to study music at Manhattan college, New York, in 2008, because she felt that Tatjana was the right teacher who would direct her well for the future. Thanks to Tatjana, Peng received a music prize at Middlesex University in 2009. She then continued to study for a MA in Music Performance jointly at City University and Guildhall school of music and drama. During her studies she played one of Vivaldi's violin concertos with the UK's longest running chamber ensemble, Allegri String Quartet, and also had masterclass with the leader of the quartet, Rafael, and masterclasses with Sophie Langdon. 
Peng started as assistant to both Nigel and Tatjana since studying at Middlesex University and also developed her own teaching practise since that time. In 2008 she started working as a helper at YMC and she has very much enjoyed working as part of the teaching staff with Nigel, Tatjana, Fiona and Greg at YMC.  Before working at YMC, she taught Mandarin at Hackney Community for a number of years.
Having taught at primary schools in north London for several years, she is now enjoying a freelance career as chamber musician, orchestral player and choral singer. She has played at Burgh House, St Luke's, on the South Bank and worked with Kings College. Peng is currently a member of the orchestra at Hertfordshire University. She also sang at St George's, Hanover Square, and has organised children's concerts and a musical in China, but she now dedicates her time mainly to teaching youngsters.
---
Utako Toyama, Junior Musicianship (early years)
Utako Toyama is a Japanese singer-songwriter and the bandleader of SkyBridge. She got accepted to Berklee College of Music with scholarship in 2011
She started a global project band, SkyBridge under the slogan of "We look different, we ALL smile the same". SkyBridge became of the representative band at Berklee and even though they never submitted their work, their music video and activity caught eyes of one of the judge and they received artistry award at Martin Luther King Jr. Celebration, the event that India Arie performed a few years later
After she graduated from Berklee, she received an exceptional talent visa in the US.
She has been performing at big events such as Women Music Network concert at BPC as the special Alumna, concert at Boston consul general's house, Hard Rock Café, Boston Japan Festival and Harvard University. Her passion is to spread the message of diversity, equality and world peace through her compositions, performances and workshops.
---
---
---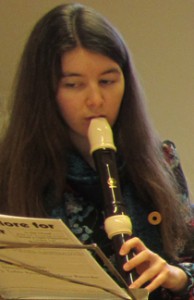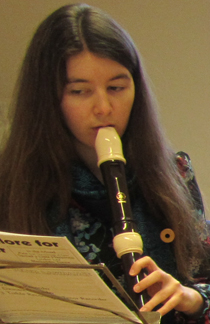 Kristina Greally, Recorder and Recorder Ensembles
Kristina read Music at King's College London and graduated in 2015 with a First Class Honours BMus. She is continuing her studies at the Royal Academy of Music, where she is on the Masters degree in Historical Performance programme under Pamela Thorby. She gained a piano diploma, the DipABRSM, in 2009, and was awarded the FTCL, a Fellowship in recorder performance from Trinity College London, in 2012. Kristina has six years' teaching experience, and was recently awarded the Cert PTC teaching diploma from EPTA (UK). She places special importance on ear training in young children. Kristina also teaches piano and recorder at Watford Grammar School for Girls, and accompanies singers and instrumentalists.
---
Edmonstone.
---
Alison Smart Fisher, Voice/Aural and Choir conductor
The British soprano, Alison Smart, studied Classics at Clare College, Cambridge, where she was Senior Choral Scholar. She took postgraduate diplomas at the Royal Northern College of Music in 1995 and at Trinity College of Music, London in 1996.
After 22 years in the BBC Singers she is extending her conducting work and is delighted to have been appointed  Musical Director of De Mer Chamber Choir.
Alison is an experienced professional singer and also director of Music at St Mary-at-Finchley Parish Church, London N3, with a thriving adult and youth choir. She  curates a long-established series of chamber concerts.
An experienced professional singer. Recent solo soprano appearances include: Bastienne ('Bastien and Bastienne', by Mozart) for Insieme – Highgate Festival and Islington Proms, June 2019. UK premiere of Graham Waterhouse's song cycle 'Emerald Spring', May 2019.
Forthcoming concerts include Berg's 'Seven Early Songs' and Vaughan Williams' 'Dona Nobis Pacem' on  Wed 25th Nov at St Giles' Cripplegate (Barbican) with Echo Ensemble, directed by Noah Max.
---

Graham Bennett BMUS LRAM PGCE, Music Theory and Composition
Graham studied piano, theory and composition at the Yehudi Menuhin School, the Royal Northern College of Music, and the Royal Academy of Music in London where he was awarded the Associated Board Entrance Scholarship. During this time he won many prestigious prizes and performed extensively in the United Kingdom and abroad as a soloist and chamber musician.
In 2001 Graham studied for a PGCE at the Institute of Education, University of London to obtain Qualified Teacher Status which enabled him to broaden his teaching experiences working with students in mainstream schools across North London, and he is Head of Theory and Composition at the Youth Music Centre
Graham is also the author, composer and publisher of the 'Music Master Series', a collection of fun and easy to follow Educational Music Books specialising in composition, theory and performance.
---
David Evans, Flute teacher and Wind Ensembles
David studied the flute privately with Peter Lloyd before winning a scholarship to study with Geoffrey Gilbert at the Royal Manchester College of Music.
He has been a member of the Icelandic Symphony Orchestra, the Brazilian Symphony Orchestra and in England has played with many national orchestras including the Halle and the BBC Northern Orchestras, Royal and Festival Ballets, the Royal Shakespeare Company and the Liverpool Philharmonic.
David now freelances and teaches at the City of London School for Girls.
---
Claudio Leisse, Music Theory
---
Henry Hargreaves, Conductor of Intro Orchestra and Cello Assistant
Henry started learning aged 6 with Michael Nebe and then Gillian Thoday. Henry has won many prizes, including the May Mukle Prize (Academy cello prize) and an award from the Raphael Sommer Foundation. He has been invited to perform concertos at venues in Spain, France, Italy and around the UK in venues including Fairfield Halls.
He has given numerous solo and chamber recitals at venues and festivals including St James Piccadilly, the Forge Camden, Mozarteum Salzburg, Marylebone Festival, Cambridge University, Charlton House, Academy Russian Chamber Music festival and including a recital raising over £500 for Evelina Children's Hospital.
---
Marina Solarek, Administrator and Violinist
Marina became administrator for the YMC in 2007. She came to England in 1986 to study violin with the late Prof. Yfrah Neaman. She has performed regularly in Britain and abroad with her Piano Trio, the Feinstein Ensemble and the Baroque Ensemble "Kontraste". She has given concerts at the South Bank and has made several broadcasts for Classic FM and BBC Radio 3.
Marina was a member of the BBC Radio Orchestra and is now leading a busy freelance career, working with the Orchestra of the Royal Opera House Covent Garden, BBC Symphony Orchestra, West End Shows and for Film and Television. She is the co-founder and tutor for the residential viola course "Arpeggione" which she runs together with Jacky Woods. Marina leads the Richmond Symphony Orchestra and is the conductor of the St Albans session orchestra.
In her spare time she enjoys going to ballet classes in the Royal Opera House with Romayne Grigorova. Marina lives with her husband Martin and their daughter Natasha in Willesden Green.
---
Youth Music Centre Trustees
Tony Burch
Ian Byrne
Penny Driver
Julia Edwards
Dr Amanda Craig
Michael Hurwitz
Amanda Sharpe
Stephen Warner