---
Marina Solarek, Artistic Director and Conductor
Marina's first professional work was as an extra ballet dancer in the Bremerhaven State Theatre.
After her A levels in Music, Biology, Pedagogy and Sport, she studied Music at the Musik Hochschule Heidelberg/Mannheim and later at the Hamburg Hochschule for Musik und Theatre where she was trained in Violin, Piano, Voice, Choir and Orchestral conducting.
In 1986 she moved to London to study violin with Professor Yfrah Neaman and gained her performance and teaching diplomas at the Guildhall school of Music and Drama in 1988.
Her first job was in the BBC Radio Orchestra and since becoming freelance she has played with most major London Orchestras and Opera Houses, has played in and led numerous West end shows and freelance orchestras and worked for Film and television.  As a chamber musician she has recorded for BBC Radio 3 and Classic FM. Her Piano Trio, which specialises in the performance of neglected 19th and 20th century women composers has performed at the Purcell Room, St Johns Smith Square, St David's Hall Cardiff and has toured in Great Britain and Europe.
Throughout her playing career Marina has taught at many different institutions. She has taught chamber music at the Royal College Junior department, violin at Royal Holloway University and has given masterclasses at Belfast University.  She also enjoys leading various amateur orchestras in London and conducting their string rehearsals. Recently she started conducting her own string orchestra in St Albans. 
In her spare time Marina goes to ballet classes with Romayne Grigorova at the Royal Opera House.
---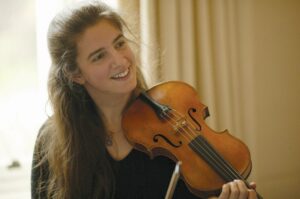 Catherine Manson, Violin and Chamber Ensembles
Catherine enjoys a versatile performing career as a soloist and chamber musician. 
As first violinist of the classical London Haydn Quartet she has performed in venues such as Carnegie Hall, the Library of Congress, the Concertgebouw in Amsterdam, London's Wigmore Hall and the Sydney Opera House. The quartet's series of recordings of the Haydn quartets on the Hyperion label has met with high critical acclaim internationally.
She was appointed as leader of the Amsterdam Baroque Orchestra in 2006. Together with the orchestra's director, Ton Koopman she has recorded the six obbligato sonatas by Bach, Haydn's concerto for violin and organ and the complete chamber music by Buxtehude. They have given many concerts together throughout Europe. 
Teaching has always been an important part of her musical life; in 2001 she co-founded and now directs MusicWorks, an organisation which presents a range of chamber music courses for young musicians.  She has given masterclasses and workshops at conservatories in London, Lyon, Barcelona, Amsterdam, Sydney, Melbourne, Singapore and at Juilliard School, Yale and Indiana Universities. 
---
Sheena Mckenzie, Cello and Chamber Ensembles
Sheena began her 'cello studies in Hong Kong at the age of 11. Three years later, she moved back to her father's native Scotland where she attended the Douglas Academy music school. At the age of 16, Sheena was invited to perform Prokofiev's Concertino with the junior orchestra of the Royal Scottish Academy of Music and Drama where she went on to study with William Conway. She was then awarded a post-graduate scholarship to study at the Royal College of Music in London with Amaryllis Fleming.
Sheena has won prizes for 'cello solo and chamber music playing, as well as piano solo and piano accompaniment prizes. An award from the Countess of Munster Trust enabled her to acquire her beautiful Barak Norman 'cello, made in 1716.
Sheena has played in master classes with Pierre Fournier (at the age of 13), Paul Tortelier, William Pleeth and Alexander Baillie. She has enjoyed a playing career both as a chamber musician and as a freelance orchestral player but she now dedicates her time mainly to teaching.
---
 Fiona Nisbett, Cello , Double Bass, Orchestra conductor and Chamber Ensembles
Fiona studied cello with Alexander Baillie and William Pleeth. She made her concerto debut at the age of seventeen and since then has performed most of the major concertos with orchestra. At the age of eighteen Fiona was one of five soloists selected to perform in the Youth Makes Music Rotary International Festival at The Royal Albert Hall.
She has given recitals throughout England, France, Holland, Germany, The Czech Republic and Italy including first performances of John McCabe's Solo Partita for cello in Italy and Keith Beal's Sonata No1 for cello and piano in Holland. Fiona has also taken part in several recordings and more recently performed in a chamber music concert with Raphael Wallfisch at Burgh House, London. Fiona has been the cellist of The Pentland Trio since its formation in 2010.
---
Roman Lytwyniw, violin and chamber ensembles
British/Ukrainian violinist, Roman Lytwyniw is a versatile musician who enjoys exploring music in a wide range of settings and venues. He has performed at most major concert halls in the U.K including the Royal Albert Hall, Wigmore Hall, Royal Festival Hall and Buckingham Palace.
He recently led an International tour with guitarist Miloš Karadaglič and Ensemble7, performing in Cadogan Hall, Snape Maltings, Dubai Opera House and Aix-en-Provence. Roman is a passionate chamber musician and regularly performs in festivals such as Cowbridge, Southwell, North Norfolk Chamber Music and Schiermonikoogs. He also have the U.K. premiere of Steven Gerber's 'Three Songs Without Words' for the London Sinfonietta Academy.
Roman studied at Chetham's School of Music followed by the Royal Academy of Music with Mateja Marinkovic, Joshua Fisher and So-Ock Kim. He has also worked with members of the Doric Quartet, London Haydn String Quartet, Sophia Rahman, Kolja Blacher and Tasmin Little.
---
Peng Nian, Violin/Viola and orchestra and ensemble assistance
Peng was born in Han Dan and brought up in a medium size heavy industry city called Fu Shun in north east China, which has a population of 2.2 million (small for China!). 
She started learning the violin at the age of four and a half in Fu Shun. The orchestra she played in as a school student won a number of first prizes and she was selected to appear when the orchestra played on TV over there.  She was offered a place as an orchestra member in the only music centre in Fu Shun and was one of two who were accepted without audition.
In 2000, she came to UK to study and, luckily, in 2007 she met Tatjana Goldberg as her violin teacher at Middlesex University. She loved Tatjana's teaching style from the first lesson and later gave up an unconditional offer to study music at Manhattan college, New York, in 2008, because she felt that Tatjana was the right teacher who would direct her well for the future. Thanks to Tatjana, Peng received a music prize at Middlesex University in 2009. She then continued to study for a MA in Music Performance jointly at City University and Guildhall school of music and drama. During her studies she played one of Vivaldi's violin concertos with the UK's longest running chamber ensemble, Allegri String Quartet, and also had masterclass with the leader of the quartet, Rafael, and masterclasses with Sophie Langdon. 
Peng started as assistant to both Nigel and Tatjana since studying at Middlesex University and also developed her own teaching practise since that time. In 2008 she started working as a helper at YMC and she has very much enjoyed working as part of the teaching staff with Nigel, Tatjana, Fiona and Greg at YMC.  Before working at YMC, she taught Mandarin at Hackney Community for a number of years.
Having taught at primary schools in north London for several years, she is now enjoying a freelance career as chamber musician, orchestral player and choral singer. She has played at Burgh House, St Luke's, on the South Bank and worked with Kings College. Peng is currently a member of the orchestra at Hertfordshire University. She also sang at St George's, Hanover Square, and has organised children's concerts and a musical in China, but she now dedicates her time mainly to teaching youngsters.
---
Lea Saric, Junior Musicianship (early years)
Growing up in a family of musicians, Lea had the opportunity to develop her passion for music early on. As a child she successfully auditioned for one of the most rigorous European choirs which allowed her to study classical music and perform across the world in numerous concerts and opera productions such as La Bohème and Pagliacci.
She continued to hone her singing skills on many global stages including The Milan Cathedral, Lincoln Center NY as well as lead her own band, touring in front of large audiences for several years.
After attending a Musical Theatre course in London's West End, she decided to study Jazz at Middlesex University where she recently graduated with First Class Honours.
Lea's musical journey included training with many wonderful mentors and teachers such as Mark Oldfield, Sheila Jordan and Renee Manning who all inspired her to bring together the best of their knowledge and develop her own teaching methodology.
After working with children for many years, she is especially passionate about teaching the little ones, so to stay ahead of the curve she regularly attends training events, studying methodologies such as the Kodály Method and Estill Voice Training to pass on her knowledge.
---
Alison Smart Fisher, Voice/Aural and Choir conductor
The British soprano, Alison Smart, studied Classics at Clare College, Cambridge, where she was Senior Choral Scholar. She took postgraduate diplomas at the Royal Northern College of Music in 1995 and at Trinity College of Music, London in 1996.
After 22 years in the BBC Singers she is extending her conducting work and is delighted to have been appointed  Musical Director of De Mer Chamber Choir.
Alison is an experienced professional singer and also director of Music at St Mary-at-Finchley Parish Church, London N3, with a thriving adult and youth choir. She  curates a long-established series of chamber concerts.
An experienced professional singer. Recent solo soprano appearances include: Bastienne ('Bastien and Bastienne', by Mozart) for Insieme – Highgate Festival and Islington Proms, June 2019. UK premiere of Graham Waterhouse's song cycle 'Emerald Spring', May 2019.
Forthcoming concerts include Berg's 'Seven Early Songs' and Vaughan Williams' 'Dona Nobis Pacem' on  Wed 25th Nov at St Giles' Cripplegate (Barbican) with Echo Ensemble, directed by Noah Max.
---

Graham Bennett BMUS LRAM PGCE, Music Theory and Composition
Graham studied piano, theory and composition at the Yehudi Menuhin School, the Royal Northern College of Music, and the Royal Academy of Music in London where he was awarded the Associated Board Entrance Scholarship. During this time he won many prestigious prizes and performed extensively in the United Kingdom and abroad as a soloist and chamber musician.
In 2001 Graham studied for a PGCE at the Institute of Education, University of London to obtain Qualified Teacher Status which enabled him to broaden his teaching experiences working with students in mainstream schools across North London, and he is Head of Theory and Composition at the Youth Music Centre
Graham is also the author, composer and publisher of the 'Music Master Series', a collection of fun and easy to follow Educational Music Books specialising in composition, theory and performance.
---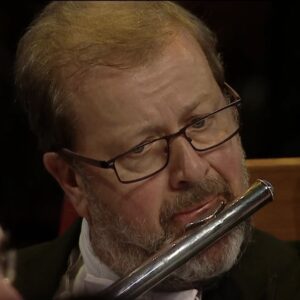 Luke Strevens, Flute and Woodwind chamber coaching
Luke Strevens studied at the Guildhall School of Music and Drama with Edward Beckett, also privately with William Bennett and Peter Lloyd as well as participating in masterclasses with the legendary Marcel Moyse.
Luke played Principal Flute with Opera80/English Touring Opera for 36 years and has worked with all the major London Orchestras as well as playing principal flute with the London Concert Orchestra for many years . As well as working with Opera, Ballet and Chamber Orchestras throughout the UK, he has played in West End Shows and in recording studios, as well as with such artists as Shirley Bassey, Luther Vandross and The Moody Blues .
Solo and chamber music performances in UK, France, Belgium, Italy, Spain, Norway and Denmark have included Premieres of two works for Solo Flute and Orchestra by Francois Glorieux at  the Palais des Beaux Arts in Brussels. 
In 2020 he formed Duo Panavanti with the Vibraphone player Jonny Raper
---
Claudio Leisse, Music Theory
---
Elizabeth Knatt, Recorder and Recorder ensembles
 Lizzie is a recent graduate of the University of Birmingham, where she studied the recorder with Annabel Knight and Chris Orton and was awarded the Arnold Goldsborough Memorial Prize for Early Music. She is now continuing her studies at the Royal Academy of Music with Anna Stegmann. Lizzie holds an LRSM award in recorder performance from the Associated Board.
The recorder has given Lizzie the opportunity to travel across the UK, Europe and further afield – most recently to Israel, where she was a semi-finalist in the Tel Aviv Recorder Festival in February 2020. Lizzie enjoys exploring contemporary music and collaborating with composers, and has recently premiered new works for recorder for The Arc Project and the University of Birmingham Summer Festival of Music. Lizzie is passionate about music education and has previously worked as a student tutor on the Recorder Summer School, assisted with Musicate! Music Explorers Scheme events in Gloucestershire and demonstrations run by the York Music Education Group, and led recorder workshops in primary schools in Hampshire. 
---
Marina Moore, Violin
 Marina trained as a violinist and violist, completing her undergraduate studies at the Royal College of Music in London and both my Masters Degree and Graduate Diploma at the New England Conservatory in Boston. For the past four years she has been recording and touring with Bryan Ferry, Roxy Music playing solo violin, viola and keys. Since 2015 Marina has played in the Royal Opera House Covent Garden Orchestra. She has participated in music Festivals in Europe and the United States including RSMI – Ravinia Festival, IMS Prussia Cove and Itzhak Perlman's Music Program PMP and its Alumni Residency. An intrinsic part of her music is composing and using effects to create soundscapes. Recent compositions have included work for the London Studio Centre, Images Ballet Company's final film 'In Perspective' 2020, and for the filmmaker Victor Bastidas.
---
Henry Hargreaves,  Cello and Administration
Henry started learning aged 6 with Michael Nebe and then Gillian Thoday. Henry has won many prizes, including the May Mukle Prize (Academy cello prize) and an award from the Raphael Sommer Foundation. He has been invited to perform concertos at venues in Spain, France, Italy and around the UK in venues including Fairfield Halls.
He has given numerous solo and chamber recitals at venues and festivals including St James Piccadilly, the Forge Camden, Mozarteum Salzburg, Marylebone Festival, Cambridge University, Charlton House, Academy Russian Chamber Music festival and including a recital raising over £500 for Evelina Children's Hospital.
---
Youth Music Centre Trustees
Tony Burch
Ian Byrne (Treasurer)
Julia Edwards
Dr Amanda Craig
Michael Hurwitz
Amanda Sharpe
Stephen Warner (Chair of trustees)
---