If you would like to buy or sell a music instrument or if you would like to advertise for something related to YMC, please send your listing with or without a photograph to youthmusiccentre@btinternet.com
---
FRENCH CELLO FOR SALE
Full size cello from the French Mirecourt School, made in approx. 1860. Deep rich sound, which would suit an advanced player (grade 7+).
Price £3,500 o.n.o. (includes hard case, with wheels).
Please contact Jana if interested
tel. 020 8209 1279
---
Cello – Nearly new, full size, pristine and including rigid fibreglass case, bow, music stand, assorted music books etc.
We bought the cello new in 2012 from Stringers, an extremely reputable music shop in London, with expertise in cellos.  Proof of purchase can be provided. 
It is 'as new' i.e. in excellent condition.  I have been speaking to Stringers about a fair re-sale price and they have said £1,250 and I would consider very good offers in this price range.
The cello is called 'superior' and it was made in China and then finished in London workshop.
The condition of this cello is fantastic – the price includes the rigid fiberglass case (very expensive to purchase and in pristine condition), bow, metal music stand, selected cello books etc.  My daughter has now decided that she will no longer be playing cello and has just left for University; thus the sale.
We live in North Finchley and I am happy for you to come and try it out before deciding.  It needs tuning (my daughter is not at home to tune) – so come prepared to tune it!   
---
3/4 size violin for sale
including bow and case (one hinge slightly broken on the case)
£40
Please contact Marina 07970 746 942, solarek@btinternet.com

_________________________________________________________________________
1/4 size Cello for sale

Good first cello, with case.
£250 ono
Please contact Frances (07747 605749) or femsteel@gmail.com
---
1/4 size Cello FOR SALE

Ideal for first cello for 6-8 year old including excellent semi-soft case.
£390 ono
Email: Katja@germancoach.me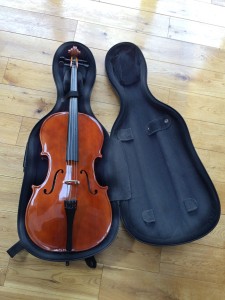 ---
1/2 size Cello FOR SALE

1/2 size beautiful Bavarian Cello
£3,500 including case and bow
Please contact Fiona for more information on Tel: 07855 352 630

---
3/4 size Violin  FOR SALE

£1200
19th century, in perfect condition and has a good case and bow.
Please contact Niaz at: niaz@hotmail.com
---
Cello for sale

£2,000 – £2,500
It is a good instrument. English, handmade, dating from approximately 1850. Slightly unorthodox in some aspects-probably made by a talented amateur. It plays well & makes a good sound. It does need a new bridge, although the current one is still standing. It would suit a grade 5+ player looking to move to a better instrument and is very slightly smaller than a normal instrument. It has been valued at between £2000-£ 2,500 – & in light of the work needed I would accept a reasonable offer.
Please contact Sarah at sarahpomeroy@icloud.com
WANTED 3/4 size Violin case

full-size VIOLIN CASE (NB: already have the violin, so only requiring a case!)

Please contact Rachel
07808 297 800