Welcome to YMC!
The YMC term ended with a brilliant end of term concert!

The new Youth Music Centre term is just round the corner and the orchestras will go on a new journey of exciting repertoire. Marina's First orchestra, which is by far not the youngest orchestra (players often have reached a good grade 5) will go on a voyage of Opera and Ballet Music and there will be some Hungarian Bartok and a jazzy number around the corner.

We are delighted that the Wind section of our Junior Orchestra is growing and having played Hayden Symphonies and Florence Price's Juba Dance in the past, we are now embarking on Baroque masterpieces by Handel and Purcell, a German Dance by Beethoven and some Carmen!

The Chamber Orchestra our flagship string group will tackle professional string repertoire. We have Britten's Simple Symphony, Bach - Brandenburg Concerto someTchaikovsky and a beautiful romantic Serenade by Vasily Kalinnikov on the menu. We are starting on 9th September and there is still time to become a member of any of our five orchestras (from beginner level to past grade 8) or would you like to sing in the Choir, play chamber music, learn aural skills, or theory & composition, improve your sight-reading or start in our beginner instrumental or toddler class.

To join us please fill in an enrolment request and the YMC team will get back to you as soon as possible: http://www.youthmusiccentre.uk/enrolment-fees/
Welcome to YMC!
Artistic Director: Marina Solarek ✺ Patron: György Pauk
The Youth Music Centre was established in Bigwood House, Hampstead Garden Suburb in 1967 and since that time has become one of the foremost Saturday morning music schools in London. The essential aim of YMC is to welcome all children from the age of two to eighteen years into our community and to help them achieve their highest musical potential within a creative and happy environment where they can come together to enjoy making music. Highly qualified Musicians will pave the way through the world of music. YMC provides classes in musicianship skills for the very youngest children before they embark on instrumental lessons at the age of five or six on violin, viola, cello, double bass, flute or recorder after which children are ready to have their first orchestral experience. We also provide theory classes up to grade eight and voice/aural classes. We are proud to say that we have many children who stay with us for their entire music education. YMC has a generous bursary scheme and offers free or subsidised places to children of families who cannot afford the fees. Places are allocated via a confidential assisted place application form.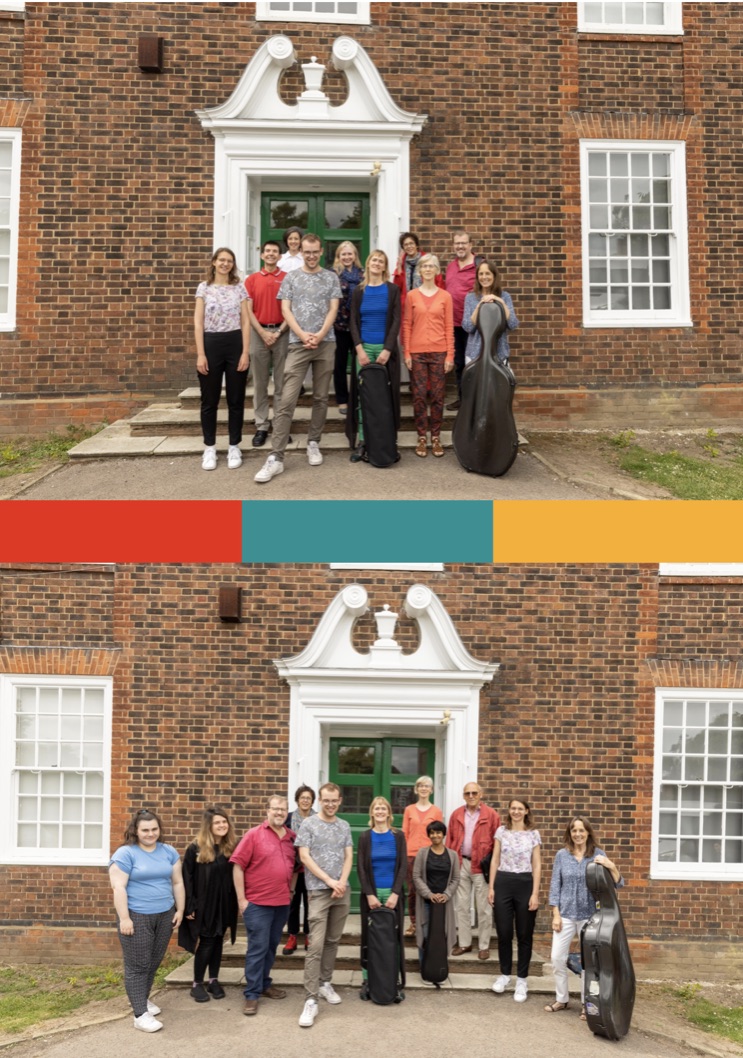 Marina Solarek
Artistic Director and Conductor
Marina's first professional work was as an extra ballet dancer in the Bremerhaven State Theatre.
She studied Music at the Musik Hochschule Heidelberg/Mannheim and later at the Hamburg Hochschule for Musik und Theatre where she was trained in Violin, Piano, Voice, Choir and Orchestral conducting.
In 1986 she moved to London to study violin with Professor Yfrah Neaman and gained her performance and teaching diplomas at the Guildhall school of Music and Drama in 1988.
Her first job was in the BBC Radio Orchestra and since becoming freelance she has played with most major London Orchestras and Opera Houses, has played in and led numerous West End shows and freelance orchestras and worked for film and television. As a chamber musician she has recorded for BBC Radio 3 and Classic FM. Her Piano Trio, which specialises in the performance of neglected 19th and 20th century women composers has performed at the Purcell Room, St Johns Smith Square, St David's Hall Cardiff and has toured in Great Britain and Europe.
Throughout her playing career Marina has taught at many different institutions. She has taught chamber music at the Royal College Junior department, violin at Royal Holloway University and has given masterclasses at Belfast University. She also enjoys leading various amateur orchestras in London and conducting their string rehearsals. Recently she started conducting her own string orchestra in St Albans.
Catherine Manson
Chamber ensembles
Catherine Manson enjoys a versatile performing career as a soloist and chamber musician. 
As first violinist of the classical London Haydn Quartet she has performed in venues such as Carnegie Hall, the Library of Congress, the Concertgebouw in Amsterdam, London's Wigmore Hall and the Sydney Opera House. The quartet's series of recordings of the Haydn quartets on the Hyperion label has met with high critical acclaim internationally.
She was appointed as leader of the Amsterdam Baroque Orchestra in 2006. Together with the orchestra's director, Ton Koopman she has recorded the six obbligato sonatas by Bach, Haydn's concerto for violin and organ and the complete chamber music by Buxtehude. They have given many concerts together throughout Europe. 
Teaching has always been an important part of her musical life; in 2001 she co-founded and now directs MusicWorks, an organisation which presents a range of chamber music courses for young musicians.  She has given masterclasses and workshops at conservatories in London, Lyon, Barcelona, Amsterdam, Sydney, Melbourne, Singapore and at Juilliard School, Yale and Indiana Universities. 
Sheena McKenzie
Cello and Ensembles
Sheena began her 'cello studies in Hong Kong at the age of 11. Three years later, she moved back to her father's native Scotland where she attended the Douglas Academy music school. At the age of 16, Sheena was invited to perform Prokofiev's Concertino with the junior orchestra of the Royal Scottish Academy of Music and Drama where she went on to study with William Conway. She was then awarded a post-graduate scholarship to study at the Royal College of Music in London with Amaryllis Fleming. (more…)
Tristan Weymes
Choir Director and Voice/aural Teacher
Tristan is a conductor, singer, and accompanist based in South London, currently studying towards an MA in Choral Conducting at the Royal Academy of Music and studies under Patrick Russill. At Trinity College, Oxford, he was Conductor of the Trinity College Chapel Choir, Oxford University Chorus, Turl Street Arts Festival Orchestra, and during this time also took up a Young Conducting Scholarship with Sing for Pleasure in 2019. He is currently Director of Music at St Mary the Virgin, Merton Park, an Assistant Leader at the London Youth Choirs, and is delighted to be taking up the post of Voice and Aural Teacher, and Choir Director, with Youth Music Service from September 2023. Alongside this, he is Deputy Artistic Director of Elysium, an organisation which aims to provide musical opportunities to young people who don't have access to them and has held singing workshops across the UK and abroad. His professional singing work has involved solo performances at venues such as St Martin in the Fields and St Paul's Knightsbridge, and as a backing singer onstage with London Youth Choirs.
He has worked with a variety of choirs, including a position as Associate Conductor of the North Cotswolds Chamber Choir last year, and runs the Elysium Consort and Chorus, towards termly concerts of both chamber and large-scale choral repertoire. He has led several youth choirs, including at Bloxham School, and recently became an Assistant Leader with the London Youth Cambiata Boys' Choir. He was recently Conducting Fellow of Hertford Choral Society. Tristan is determined to provide opportunities to musicians of all backgrounds. He recently set up a Children's Choir at St Luke's, Woodside, where he was Director of Music until December 2022, and has led singing workshops in the UK and abroad for children and adults alike.
Fiona Nisbett
Cello and conductor of Preparatory and lower strings Orchestra
Fiona studied cello with Alexander Baillie and William Pleeth. She made her concerto debut at the age of seventeen and since then has performed most of the major concertos with orchestra.
At the age of eighteen Fiona was one of five soloists selected to perform in the Youth Makes Music Rotary International Festival at The Royal Albert Hall.
She has given recitals throughout England, France, Holland, Germany, The Czech Republic and Italy including first performances of John McCabe's Solo Partita for cello in Italy and Keith Beal's Sonata No1 for cello and piano in Holland. (more…)
Iona McDonald
Violin and Ensembles
Iona McDonald is a violinist currently in the 2nd year of her 2 year Master of Arts degree studying with Maureen Smith and Michael Foyle at the Royal Academy of Music in London. Born in Dumfries, and with her early education in Moffat, Iona is a well-known young musician around Dumfries and Galloway. She has been a member of the Gustav Mahler Jugendorchester since 2019. Highlights of her time working with the GMJO include performing on the opening night of the Salzburg Festspiele in July 2021 and a collaboration with the GMJO and the Dresden Staatskapelle in March 2020.
Iona is a member of the Asaka Quartet, formed at the Royal Academy of Music in October 2021. After just 6 months of working together, they are delighted to have been appointed Chamber Music Fellows at the Royal Academy for 2022/23. Currently they are mentored by Martin Outram and also receive coaching from the Doric Quartet and the London Haydn Quartet. Recently, they received an invitation to the prestigious Music Coll 2022 by Jonathan Tunnell, Artistic Director of the Tunnell Trust, where they will work, study and perform on the beautiful Isle of Coll in June later this year.
Iona is also a keen orchestral player and the Royal Academy has presented many wonderful performance opportunities, including performing at the Wigmore Hall with the String and Wind Soloists ensemble in May 2019 and tour of Japan in Summer 2018. She regularly performs with the RAM Symphony Orchestra which she recently lead for their Midsummer NightsDream project in January 2022. She is delighted to have been invited to lead the RAM Symphony Orchestra for their performance of Mahler 3 at the Royal Festival Hall conducted by Semyon Bychkov for the Academy's 200th Anniversary Concert in June 2022. She was also leader of the Opera Orchestra for the performances of Gianni Schicchi & L'heureEspagnol in November 2021 and lead the Manson Ensemble in November 2020. Iona has been a member of the National Youth Orchestra of Scotland ensembles since the age of 8, touring China in 2015, performing at the Proms in 2016 and leading the Symphony Orchestra in the 2017 season. She is delighted to be joining them again in July 2022 as a soloist with the NYOS Junior orchestra.
Iona has performed as soloist with Buxton Music Society, Musicale, Halifax Symphony Orchestra, Glasgow Chamber Orchestra and High Peak Orchestra whom she will be joining again in July 2022 to perform Chausson Poeme in the Buxton Festival Fringe.
Graham Bennett
Theory and Composition
Graham Bennett BMUS LRAM PGCE studied piano, theory and composition at the Yehudi Menuhin School, the Royal Northern College of Music, and the Royal Academy of Music in London where he was awarded the Associated Board Entrance Scholarship. During this time he won many prestigious prizes and performed extensively in the United Kingdom and abroad as a soloist and chamber musician.
In 2001 Graham studied for a PGCE at the Institute of Education, University of London to obtain Qualified Teacher Status which enabled him to broaden his teaching experiences working with students in mainstream schools across North London, and he is Head of Theory and Composition at the Youth Music Centre
Graham is also the author, composer and publisher of the 'Music Master Series', a collection of Educational Music Books specialising in composition, theory and performance.
"YMC trained me very well for all aspects of my musical life – from the basics such as sitting up in orchestra and bringing a pencil to ensemble skills and the fundamentals of ensemble and orchestral playing."- Ellen Baumring-Gledhill
"A fantastic music experience for all my children. They look forward to playing every Saturday"
Angela Stephens
PARENT
"Highly professional and fun at the same time. My son has gained so much from taking part"
ANNIE KING
PROFESSIONAL VIOLA PLAYER
YMC is a Registered Charity (Number 1077495) and constituted as a Company Limited by Guarantee (Registered number 3816808). Copyright © 2016 YMC.
Site design: The Visual Creative