If you would like to buy or sell a musical instrument or if you would like to advertise for something related to YMC, please send your listing with or without a photograph to marina@youthmusiccentre.uk
---
Violin for sale

Our lovely violin is 100-150 years old. It is ¾ size, factory made probably in Germany. It has recently been put into perfect playing order by renowned maker and repairer, Tibor Szemmelveisz, who confirms its perfect condition. It comes with a with good quality case. It has been suggested that we ask £800 ono. We live in Muswell Hill and we would be happy for anyone to arrange to see the violin and try playing it.
Please contact Hilary Plant
Mob – 07739464533
Email – hilaryplant@blueyonder.co.uk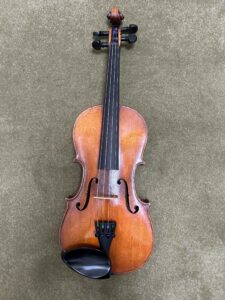 ---
Chinese 1/4 Cello including semi-hard case for sale : £300 ( the semi hard case as new was £100)
Please, contact Katja on
07947 680858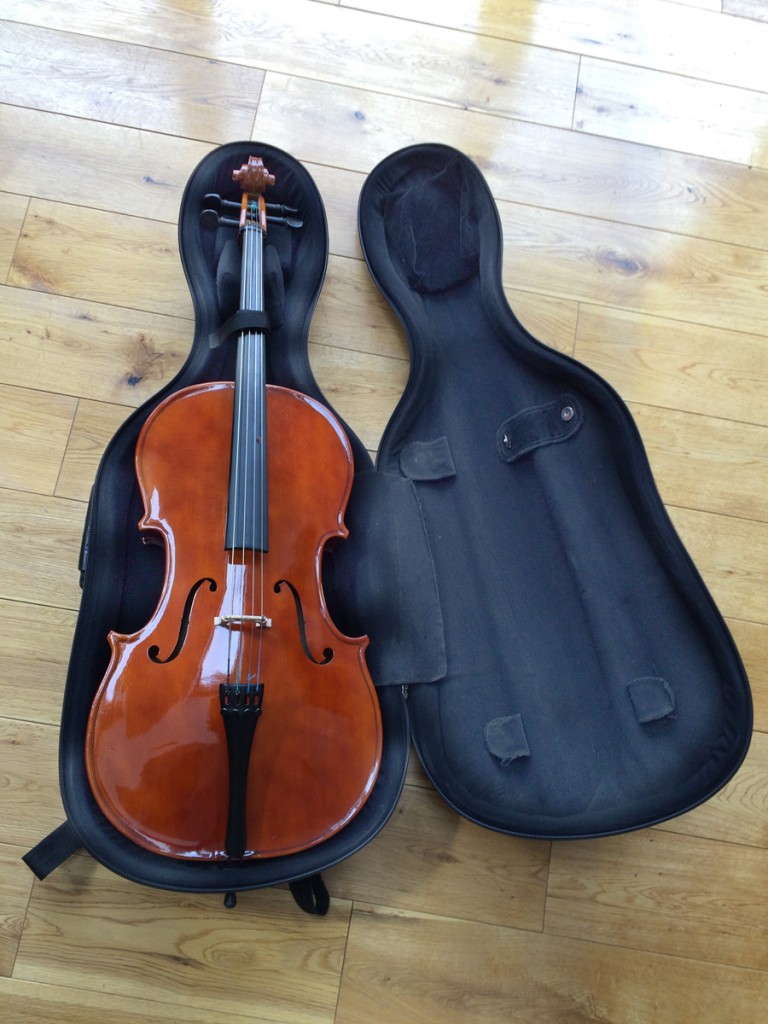 ---
Violin for sale which would be suitable for a student – it was chosen for me by my teacher at the Junior Royal Academy of Music. It is German, non-labelled, made circa 1895 -1905, all verified by Stringers in St John's Wood. The condition is good, with just one small section which requires re-gluing, which Stringers said was very minor and would cost around £80/100 to repair. It needs new strings etc, but is in otherwise good condition. There is no bow. The value by Stringers and another independent valuer is £1800-2200. I would accept an offer. I live in Golders Green, NW11, and you are welcome to view by arrangement. 07733 272 186 susannebramson@hotmail.com

---
1/2 size violin, copy of Antonius Stradivarius for sale!
Only 650 of this type in existence
The bow is a primavera bow and is made from hardwood.
Price: £180
Please contact henry@youthmusiccentre.uk if you are interested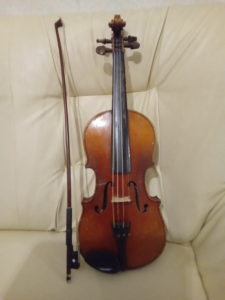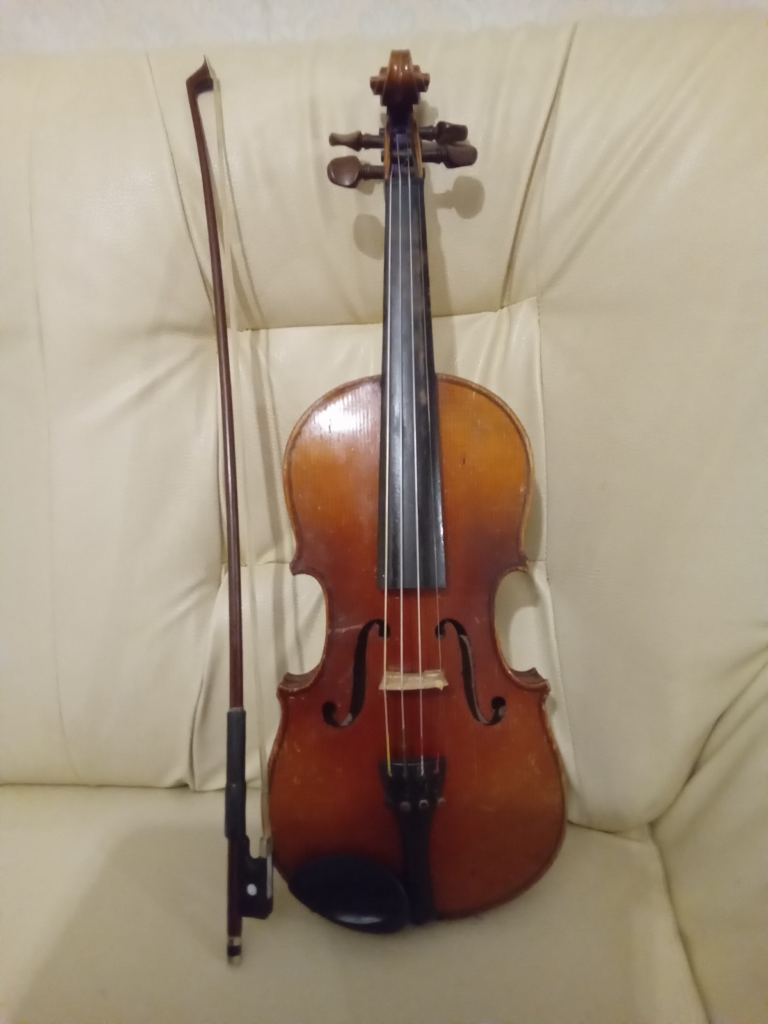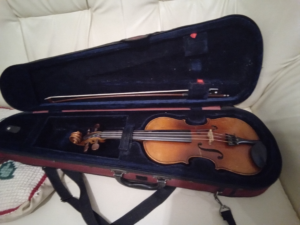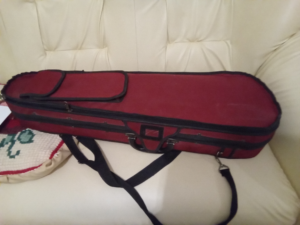 4/4 Violin for Sale!
A beautiful late 19th century instrument.
Labelled "James Cole, Manchester 1883", but definitely imported from Germany (probably Dresden).
Selling for only £3,000 (valued by Stringers at £4,500+ retail!)
Contact adam.cigmanmark@cantab.net or 07879 620803
---
4/4 Alfred G. Collisson c1900 Violin and W.E. Hill & Son Bow for sale
The violin belonged to my late grandmother. It is in very good condition and has been recently valued by Stringers London at £3500 for the violin and £2500 for the bow (see photos). I have also recently had Stringers' review the instrument where they re-haired the bow and made other small repairs (see photos). I'm looking to sell at around the valuation price.
07971 411381
---
Private Sale – ¾ sized Cello
£3250
German Cello. Early 1900's.
In very good condition. Price includes the case.
It has been played and enjoyed by our daughter for two and a half years whilst at Primary Academy.
Please contact Lana Green on 07930 364 792.
---
Full Size Cello for Sale
Full size cello for sale, which has been valued at between £6000 and £8000
Please contact David Abrahams 07724894145 if interested
---
---
3/4 size cello with soft case for sale
Made by Michael Poller Geigenmacher, Mittenwald an der Tfar.
It's in very good condition for £500.00 and
Bow Erich Steiner £200.00
Please phone Rosalie on 07946 099 883
---
---
Full-size (4/4) cello to sell
It is a Joseph Channing Chinese-Canadian instrument, made in 1999, I have been the sole owner since then and it was purchased from Hamilton Caswell's in Bristol. It is in great condition and had a new Michael Shakespeare bridge put on since purchasing; I have attached a few photos.
Last valued at c. £2000
---
Cello – Nearly new, full size, pristine and including rigid fibreglass case, bow, music stand, assorted music books etc.
We bought the cello new in 2012 from Stringers, an extremely reputable music shop in London, with expertise in cellos. Proof of purchase can be provided.
It is 'as new' i.e. in excellent condition. I have been speaking to Stringers about a fair re-sale price and they have said £1,250 and I would consider very good offers in this price range.
The cello is called 'superior' and it was made in China and then finished in London workshop.
The condition of this cello is fantastic – the price includes the rigid fiberglass case (very expensive to purchase and in pristine condition), bow, metal music stand, selected cello books etc. My daughter has now decided that she will no longer be playing cello and has just left for University; thus the sale.
We live in North Finchley and I am happy for you to come and try it out before deciding. It needs tuning (my daughter is not at home to tune) – so come prepared to tune it!
---
3/4 size violin for sale
including bow and case (one hinge slightly broken on the case)
£40
Please contact Marina 07970 746 942, solarek@btinternet.com
_________________________________________________________________________
---
[column-group]
[column]
1/4 size Cello FOR SALE

Ideal for first cello for 6-8 year old including excellent semi-soft case.
£390 ono
Email: Katja@germancoach.me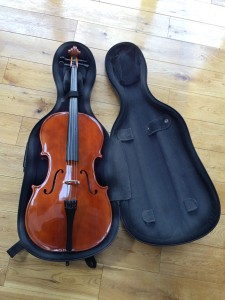 ---
1/2 size Cello FOR SALE

1/2 size beautiful Bavarian Cello
£3,500 including case and bow
Please contact Fiona for more information on Tel: 07855 352 630

---
3/4 size Violin FOR SALE

£1200
19th century, in perfect condition and has a good case and bow.
Please contact Niaz at: niaz@hotmail.com
---
[/column]
[column]
WANTED 3/4 size Violin case

full-size VIOLIN CASE (NB: already have the violin, so only requiring a case!)

Please contact Rachel
07808 297 800
[/column]
[/column-group]