Chamber Orchestra

This is our flagship string orchestra. Children usually will have achieved Grade 7 – 8 on their violin and Grade 6 on violas or cellos to take part. We play some very challenging repertoire including works specially written for us, therefore personal practice outside of YMC is certainly necessary.
Junior Orchestra
This orchestra is for string and wind players. We aim to work on more advanced repertoire and therefore Grade 6 is expected from violinists and a good Grade 5 violists and cellists, grade 6 and above for wind players.
Practice parts are given and it is of great benefit if students could look at them during the week beforehand. Some might need to take their music to their teachers for a little extra help.
First Orchestra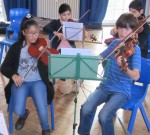 This is a string orchestra made up of children who are usually about grade 5 standard on violin and viola and grade 4 on cello. By this stage they should have a good degree of 'instrumental' knowledge in all the requirements for those grades.
Preparatory First Orchestra
This is an orchestra for string and wind players mostly made up of children around the ages of 8-11 and the standard of playing ranges from children who have a good working knowledge of 3rd position i.e. grades 3-4 on the violin or viola and the cellists should be grade 3 upwards. Wind players should be grade 3 upwards.
Introduction to Orchestral Playing
This is a string ensemble mostly made up of children 6-8 years of age. The standard of playing ranges from children who have just left their first year group lessons on violin, viola and cello to children who have taken their grade 2/3
Junior Musicianship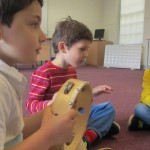 These are pre instrumental musicianship classes which are organised into small groups for our youngest YMC members between the ages of 2-6 years. These classes run every half hour through the Saturday morning arranged by age.
The aim of the classes is to explore the basic concepts of music ie. rhythm and pitch, while inviting different forms of expression (through music, speech, drawing, etc), developing the singing voice and offering the chance to play with various small musical instruments.
The class combines the Kodaly method – a system of corresponding syllable names and hand-signs to represent the intervalic relationship between the notes of any key, and rhythm syllables to express the duration of the note values – and the Orff method – a 'child-centered' approach which combines music, movement, drama and speech incorporating the use of small musical instruments and inviting improvisation. Special attention is given to inner hearing, memorising, co-ordination and expressivity.
String Ensembles
Run by Iona McDonald, Catarina Silva, Sheena McKenzie and Fiona Nisbett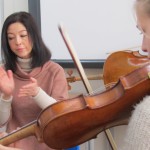 These ensembles are smaller chamber groups (3 -8 players) of students from the same orchestra coached by one of our specialist teachers. Children who wish to join one of these ensembles will be put into groups according to their age, ability and space availability. String ensembles are available for children from the Preparatory First Orchestra standard and above. An assessment is required to be part of any ensemble.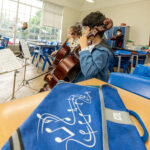 Chamber music or ensemble playing is a vital part of a child's musical education. It is music making without a conductor and gives students the crucial skills of listening and communicating with other players. With the help of their chamber music coach, students learn the craft and skill of holding a tempo or pulse and adapting intonation and style of playing to their fellow musicians.
Children who join a YMC ensemble will stay with this group for the entire academic year and will have the opportunity to perform in various national festivals in that formation.
YMC ensembles have been first prize winners in the North London and Spring Grove festivals for many years.
Beginner Group classes
These are group beginner classes for children from 5 years of age for violin, viola, cello and recorder or for flute from 7 years upwards.
The classes start every September and run for one year only, after which children are usually ready to move to the introduction to orchestral playing class. This is also the time for children from the beginner classes to progress to individual instrumental lessons. Having established a relationship with your original group teacher we recommend that you carry on learning with them or you are free to find another teacher of your choice (a substantial list of private string teachers available).
Children from the beginner recorder group will be allocated a new group class after the first year according to the level they have reached.
YMC recommends combining the beginner instrumental classes either with a Junior Musicianship or Voice/Aural class depending of the age of the child.
New Beginner Strings Programme (from September 2023)
From September 2023 YMC will be offering a new programme and package for String Instrument learning. As part of this new programme students will participate in:
a weekly 30 minute group violin, viola, cello or double bass lesson
a weekly 30 minute Starter Strings Orchestra and musicianship class with Fiona Nisbett
receive free instrument hire for 1 year only
Students will have the opportunity to develop instrument technique, music reading and ensemble playing skills all in a collaborative group learning environment. Please do get in touch if you are interested in participating in the programme.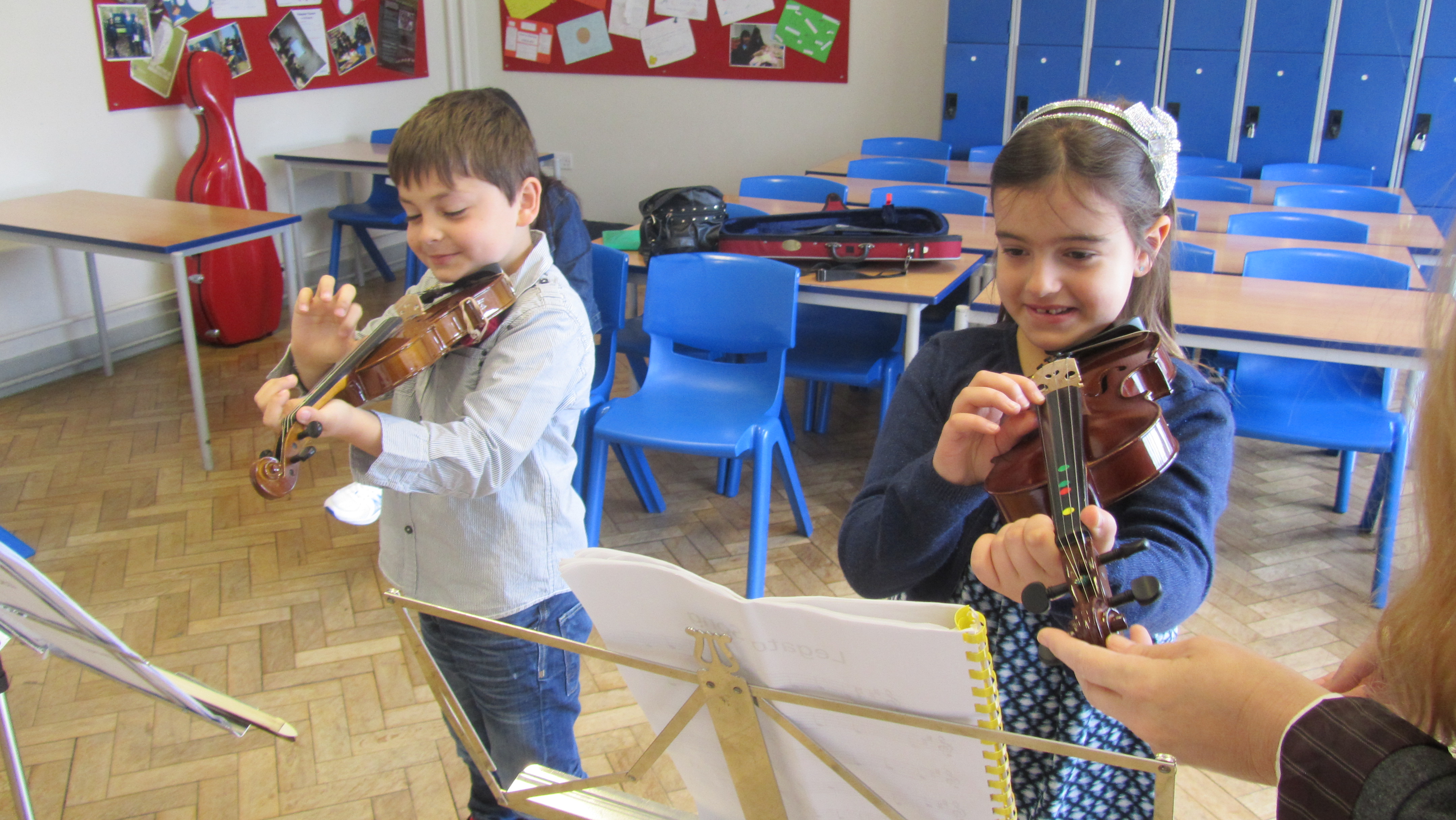 Individual Instrumental Lessons
Violin/Viola: Karin Bjork, Iona McDonald, Peng Nian, Chloe Meade, Catarina Silva
Cello/Double Bass: Sheena McKenzie, Fiona Nisbett, Dinah Beamish
Flute: Luke Strevens
Recorder: Elizabeth Knatt
YMC has added individual instrumental tuition to it's wide ranging offer. One to one tuition is where students have the opportunity to hone the technical skill and craft of a musical instrument and explore repertoire to develop artistry and imagination, guided by one of our expert tutors. This learning is at the heart of a students musical development and one to one lessons cater to students of all abilities.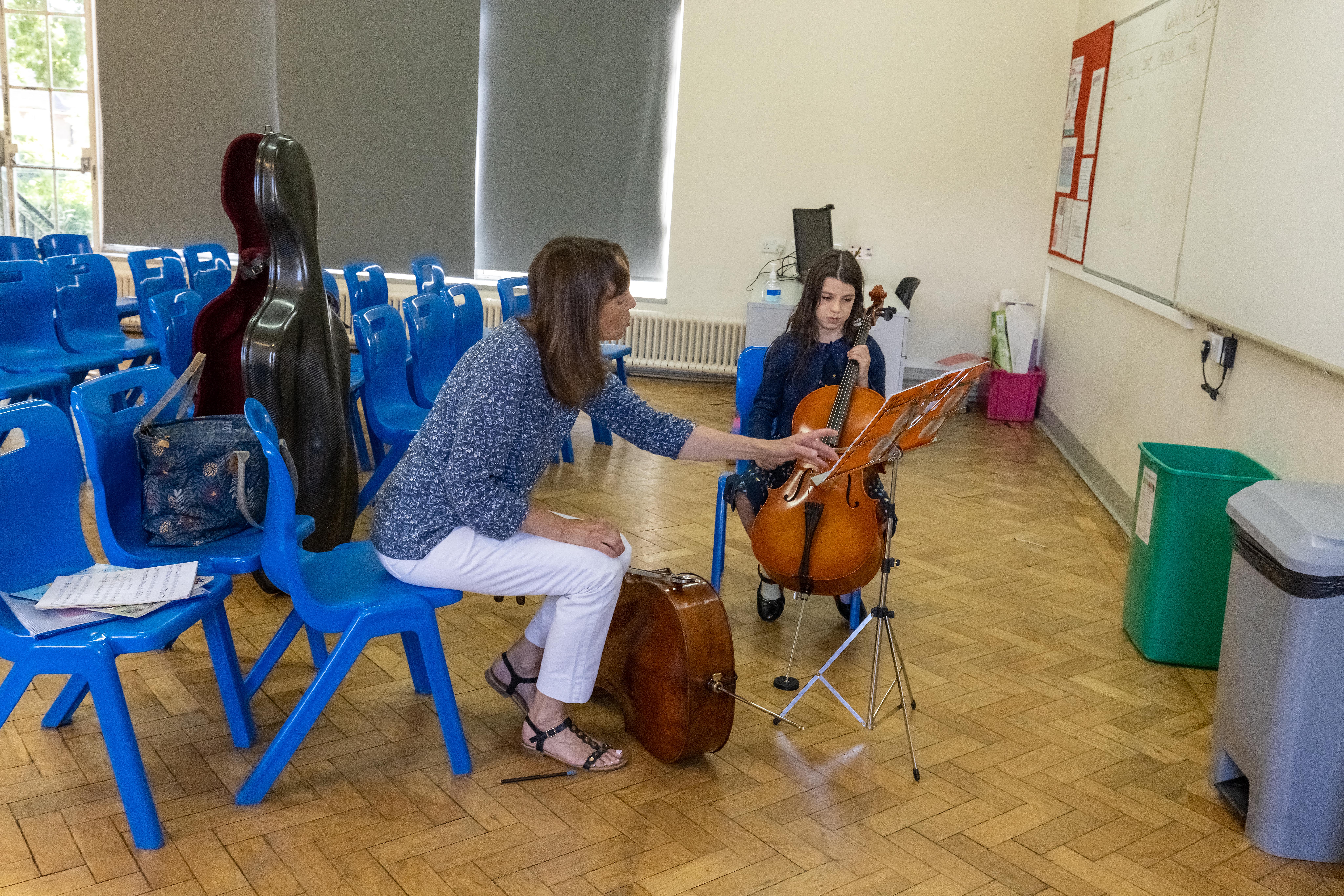 Wind Ensemble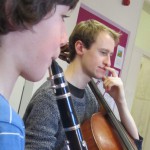 The wind ensemble are aimed at players of all woodwind instruments of grade 3+ standard to give them a gentle introduction to the necessary art and enjoyment of ensemble playing. It should provide them with a solid base for future participation in orchestras and chamber music. Players of the different wind ensembles can either join the prep first orchestra (from approximately grade 3 upwards) or the Junior orchestra (from approximately grade 6 upwards).
Chamber music or ensemble playing is a vital part of a child's musical education. It is music making without a conductor and gives students the crucial skills of listening and communicating with each other. With the help of their chamber music coach students learn the craft of holding a tempo or pulse and adapting intonation and style of playing to their fellow musicians.
Choir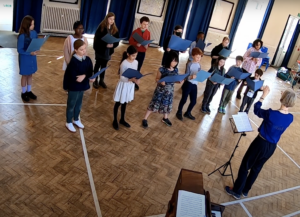 The Choir enables all children from eight upwards to sing together. It includes both Kodály and voice training and older children are given some special repertoire. Regular concerts are given and the director will encourage solo performance by singers.
The Choir had the honour of being asked to perform in "Youth Makes Music" at the Royal Festival Hall. It also performs publicly together with the Chamber Orchestra.
The choir aims to be a centre of excellence for young singers and is suitable for all students who wish to develop their vocal skills  further. 
Voice / Aural training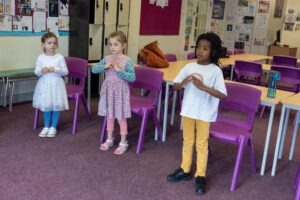 These classes train general aural skills and voice production which is a good support for the preparation for aural tests in national grade exams.
Children from 7 upwards are grouped roughly by age and experience and the classes will develop their musical skill of pitch, rhythm, intervals and mental and physical coordination. The classes are also suitable for those who simply wish to develop their vocal skills. In addition, we would highly recommend these classes to all instrumentalists in order to develop a strong sense of pitch and rhythm, two indispensable tools for instrumental playing.
Recorder classes
These are different small group classes (2 – 6 players) for beginner to advanced recorder players. Beginner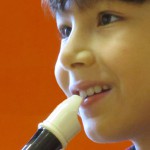 classes are for players aged 5 upwards and all other group classes are arranged after consultation with the class teacher. Children learn technical skills of recorder playing in a warm and positive group environment. Many students take regular grade exams.
Music Theory and Composition
These classes are recommended for all children of 7 years and above. The Theory and Composition Classes at YMC offer an exciting approach to learning music theory for ABRSM examinations providing a platform where students can develop the skills and knowledge essential for all good musicians.
Within each class, students are taught how to understand theory through a wider musical context often relating aspects of the syllabus to the developments of styles, periods and composers. This additional knowledge can then be applied in more creative ways as performers and composers thus providing a more enriched experience of learning and development.
At YMC, theory is taught for all grades 1-8, and special emphasis on examination techniques are provided in each class.